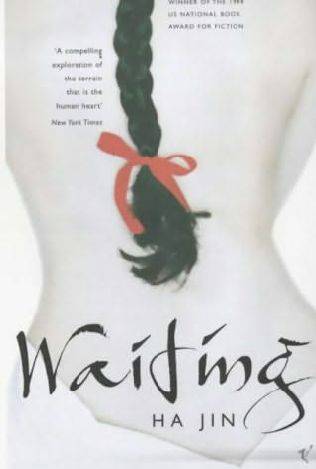 Annotation:
'Achingly beautiful &Ha Jin depicts the details of social etiquette, of food, of rural family relationships and the complex yet alarmingly primitive fabric of provincial life with that absorbed passion for minutiae characteristic of Dickens and Balzac.' Los Angeles Times Book Review

'A vivid bit of storytelling, fluid and earthy &Reminiscent of Hemingway in its scope, simplicity and precise language & A graceful human allegory.' Chicago Sun-Times

'A subtle beauty & A sad, poignantly funny tale.' The Boston Sunday Globe

'Impeccably deadpan & Waiting turns, page by careful page, into a deliciously comic novel.' Time

'Spare but compelling &Jin's craftsmanship and grasp of the universal language of the human heart make the book a worthwhile read.' USA Today

'A wry, lovely novel &Unexpectedly moving &So quietly and carefully told that &we read on patiently, pleasantly distracted, wondering when something will happen. Only when we've finished do we understand just how much has, and how much waiting can be its own painful reward.' -Newsday

'Enlightening &a delicate rendering of the universal complications of love &Ha Jin's natural storytelling quietly captures the texture of daily life in a dual Chinese culture &No detail is extraneous in this sad, funny, and often wise novel.' The Village Voice Literary Supplement

'Remarkable & compellingly ingenious & gorgeously cinematic.' The Philadelphia Inquirer

'A wonderfully ironic novel & complex and sad as life &It captures the difficulties of love in totalitarian China with sharp prose and a convincing portrayal of human vagaries.' Minneapolis Star Tribune

'Subtle and complex & his best work to date. A moving meditation on the effects of time upon love.' The Washington Post

'[Jin] reveals some startlingly original insights on human life and love &in a narrative that dazzles the reader with its simplicity and grace.' -The Providence Sunday Journal

'[Waiting is] a masterpiece of realism and a work of ironic allegory, its mystifying, foreign world full of characters who grow more familiar with every page &Through an accumulation of small, deft brushstrokes, 20th century China is superimposed onto the landscape of an ancient, painted scroll.' -The Plain Dealer

'A high achievement indeed.' The New York Review of Books

***

This novel tells the story of Lin Kong, a man living in two worlds, struggling with the conflicting claims of two utterly different women, as he moves through the political minefields of a society designed to regulate his every move.

***

Amazon.com Review

'Every summer Lin Kong returned to Goose Village to divorce his wife, Shuyu.' Like a fairy tale, Ha Jin's masterful novel of love and politics begins with a formula-and like a fairy tale, Waiting uses its slight, deceptively simple framework to encompass a wide range of truths about the human heart. Lin Kong is a Chinese army doctor trapped in an arranged marriage that embarrasses and repels him. (Shuyu has country ways, a withered face, and most humiliating of all, bound feet.) Nevertheless, he's content with his tidy military life, at least until he falls in love with Manna, a nurse at his hospital. Regulations forbid an army officer to divorce without his wife's consent-until 18 years have passed, that is, after which he is free to marry again. So, year after year Lin asks his wife for his freedom, and year after year he returns from the provincial courthouse: still married, still unable to consummate his relationship with Manna. Nothing feeds love like obstacles placed in its way-right? But Jin's novel answers the question of what might have happened to Romeo and Juliet had their romance been stretched out for several decades. In the initial confusion of his chaste love affair, Lin longs for the peace and quiet of his 'old rut.' Then killing time becomes its own kind of rut, and in the end, he is forced to conclude that he 'waited eighteen years just for the sake of waiting.
Ha Jin Waiting

Prologue

PART 1

1

2

3

4

5

6

7

8

9

10

11

12

PART 2

1

2

3

4

5

6

7

8

9

10

11

12

PART 3

1

2

3

4

5

6

7

8

9

10

11

12

Acknowledgments

Ha Jin