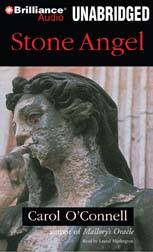 Оценка:
2.5

(

4

)
Genre:
historical detective
Annotation:
The past comes back to haunt, in the new novel featuring Kathleen Mallory the strongest new detective of the decade (Kirkus Reviews).

Carol O Connell s novels continue to draw extraordinary praise for her unforgettable protagonist (The Miami Herald), thoroughly original characters (People), gifted storytelling (Milwaukee Journal Sentinel), and prose so stunning it takes your breath away (Mostly Murder), all combining to produce some of the most stylishly innovative and witty mysteries in years (San Francisco Chronicle).

At their heart is NYPD sergeant Kathleen Mallory, a wild child turned policewoman possessed of a ferocious intelligence and a unique inner compass of right and wrong which has drawn her now to a place far from home.

In a small town in Louisiana, Mallory steps off a train. Within an hour, one man has been assaulted, another has had a heart attack, a third has been murdered, and Mallory is in jail, although she has had nothing to do with any of these events. She is there for an entirely different purpose.

Seventeen years ago, Mallory s mother died in this town, stoned to death by a mob, and the six-year-old Mallory vanished, to reappear later on the streets of New York. Now she has returned to find out who killed her mother, and what happened to the body, vanished as well, its only trace a winged angel in the local cemetery. Her search will take her through a dark and murky past, and into the company of people who have much to warn her about and even more to hide, but for Mallory there is no stopping even if what she discovers is something better left buried in the grave.

Filled with the rich prose, resonant characters, and knife-edge suspense that have won her so many admirers, Stone Angel is Carol O Connell s most remarkable novel yet.

Carol O Connell is also the author of Mallory s Oracle, The Man Who Cast Two Shadows, and Killing Critics. She lives in New York City.
Read this book now
Download in formats: fb2 293k, epub 512k, mobi 525k, txt, html