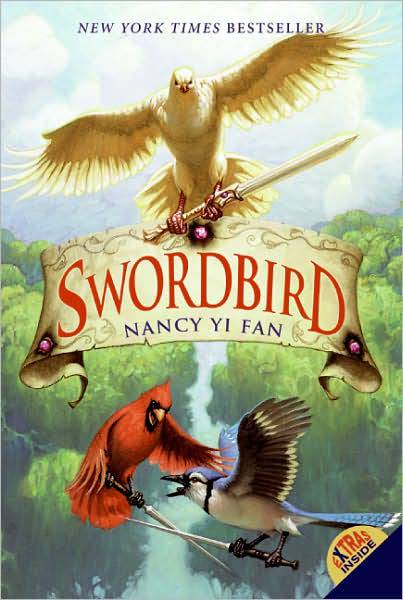 Оценка:
3.3

(

3

)
Genre:
heroic
Annotation:
From Publishers Weekly

Yi Fan's tightly woven story delivers a manifest message promoting peace and freedom. Starring woodland bird characters, the saga pits the tyrannical hawk Turnatt, captor of 'slavebirds' whom he shackles and puts to work building his fortress, against the cardinals and blue jays. Though once friendly, these two benign flocks are now at war: Turnatt's soldiers have stolen eggs and food from each flock (the hawk eats a purloined egg daily, believing this will 'keep death away'), and have led each camp to believe the other is responsible for the thefts. One of the slavebirds, a robin named Miltin, escapes to tell Aska, a brave young jay, about Turnatt's evil doings and his plan to enslave all the local woodbirds. Blue jays and cardinals join forces to vanquish the despot, a mission that entails several diverting twists, including a search for the necessary elements to summon the Swordbird, the 'mystical white bird, the son of the Great Spirit.' The author occasionally relieves the tale's ample tension with snippets of humor. While feasting with a traveling troupe of winged thespians, for instance, the cardinals and blue jays drive away Turnatt's marauding forces by bombarding them with bean soup and raspberry pies. Experienced readers will recognize the familiar allegory here, but the book will likely appeal to Redwall fans, and this young writer is worth watching.

From School Library Journal

Grade 4-6-The Stone-Run Country is in peril. The blue jays' Bluewingle tribe and their former friends, the cardinals of the Sunrise tribe, have gone to war. Each side believes the other to have stolen its food and eggs, little suspecting the malicious hawk, Turnatt, along with his hoard of crows and ravens. Now he is intent on forcing all of the local woodbirds to work on his magnificent fortress, and it's up to a variety of brave avians to upset the villain's plans. Their only hope lies in summoning the great warrior, Swordbird, to assist them in their time of need. Fan wrote the book when she was 11 as a response to a world at war; it goes without saying that she is very talented. However, the book essentially reuses old tropes in a new setting, making the plot, pacing, and characters more than a little predictable and, for all of its charms, the story is overly familiar. Dialogue runs to the clunky with lines like, 'I'll get you, me and my crew will' and 'You'll pay for that, scalawag!' The greatest credit should be given to the illustrator, who took the author's imagery and made it believable as well as attractive.
Read this book now
Download in formats: fb2 560k, epub 888k, mobi 848k, txt, html