A Practical Guide to 'Free Energy' Devices
Author: Patrick J. Kelly
Part D8: Last updated: 2nd December 2006
Tesla's Experiments: In 1889 Tesla began experimenting with capacitors charged to high voltages and
discharged in very short time intervals. These very short pulses produced very sharp shockwaves which he felt across the front of his whole body. He was aware that closing a switch on a high-voltage dynamo often produced a stinging shock. This was believed to be static electricity and it occurred only at switch-on and only for a few milliseconds. However, in those few milliseconds, bluish needles of energy stand out from the electrical cables and they leak to ground, often through the bodies of any people standing nearby, causing immediate death if the installation is large. While the generators of that time were rated at some thousands of volts, these discharges were millions of volts in intensity. The generator problem was eliminated by the used of highly insulated switches which were provided with a very large ground connection.
Tesla was intrigued by this phenomenon which appeared to match the effect of his capacitor discharges. He calculated that the voltages produced were hundreds of times greater than could be supplied by the capacitor or generator. It was clear that the power supplied was being amplified or augmented in some way, but the question was, from where was the extra energy coming?
Tesla continued to investigate through experiments, taking precautions against the high voltages being produced. He was soon able to produce these shockwaves whenever he wanted to. The shockwaves produced a stinging sensation no matter where he stood in his laboratory, and hands and face were particularly sensitive to the wave. These waves radiated out and penetrated metal, glass and every other kind of material. This was clearly not an electromagnetic wave, so he called the new wave 'Radiant Electricity'.
Tesla searched the literature to find references to this radiant energy but he could not find much. In 1842, Dr. Joseph Henry had observed that steel needles were magnetised by a Leyden Jar spark discharge located on a different floor of the building. The magnetising wave had passed through brick walls, oak doors, heavy stone and iron flooring and tin ceilings to reach the needles located in a vault in the cellar.
In 1872, Elihu Thomson took a large Ruhmkorff Spark Coil, attached one pole of the coil to a cold-water pipe and the other pole to a metal table top. This resulted in a series of massive sparks which electrified the metal door knob of the room and produced the stinging shockwaves which Tesla was investigating. He found that any insulated metal object anywhere in the building would produce long continuous white sparks discharging to ground. This discovery was written up briefly in the Scientific American journal later that year.
Tesla concluded that all of the phenomena which he had observed, implied the presence of "a medium of gaseous structure, that is, one consisting of independent carriers capable of free motion - besides the air, another medium is present". This invisible medium is capable of carrying waves of energy through all substances, which suggests that, if physical, its basic structure is much smaller than the atoms which make up commonplace materials, allowing the stream of matter to pass freely through all solids. It appears that all of space is filled with this matter.
Thomas Henry Moray demonstrated this energy flow passing through glass and lighting standard electric light bulbs. Harold Aspden performed an experiment known as the "Aspden Effect" which also indicates the presence of this medium. Harold made this discovery when running tests not related to this subject. He started an electric motor which had a rotor mass of 800 grams and recorded the fact that it took an energy input of 300 joules to bring it up to its running speed of 3,250 revolutions per minute when it was driving no load.
The rotor having a mass of 800 grams and spinning at that speed, its kinetic energy together with that of the drive motor is no more than 15 joules, contrasting with the excessive energy of 300 joules needed to get it rotating at that speed. If the motor is left running for five minutes or more, and then switched off, it comes to rest after a few seconds. But, the motor can then be started again (in the same or opposite direction) and brought up to speed with only 30 joules provided that the time lapse between stopping and restarting is no more than a minute or so. If there is a delay of several minutes, then an energy input of 300 joules is needed to get the rotor spinning again.
This is not a transient heating phenomenon. At all times the bearing housings feel cool and any heating in the drive motor would imply an increase of resistance and a build-up of power to a higher steady state condition. The experimental evidence is that there is something unseen, which is put into motion by the machine rotor. That "something" has an effective mass density 20 times that of the rotor, but it is something that can move independently and take several minutes to decay, while the motor comes to rest in a few seconds.
Two machines of different rotor size and composition reveal the phenomenon and tests indicate variations with time of day and compass orientation of the spin axis. One machine, the one incorporating weaker magnets, showed evidence of gaining strength magnetically during the tests which were repeated over a period of several days.
This clearly shows that there is an unseen medium which interacts with everyday objects and actions, and confirms Tesla's discovery. Tesla continued to experiment and determined that a very short uni-directional pulse is necessary to generate the radiant energy wave. In other words, an alternating voltage does not create the effect, it has to be a DC pulse. The shorter the pulse time and the higher the voltage, the greater the energy wave. He found that using a capacitor and an arc discharge mechanism with a very powerful permanent magnet placed at right angles to the spark, improved the performance of his equipment by a major factor.
Additional experiments showed that the effects were altered by adjusting the duration of the electrical pulse. In each instance, the power of the radiated energy appeared to be constant irrespective of the distance from his apparatus. The energy was in the form of individual longitudinal waves. Objects placed near the equipment became powerfully electrified, retaining their charge for many minutes after the equipment was switched off.
Tesla was using a charging dynamo as a power source and he found that if he moved his magnetic discharger to one side of the dynamo, the radiant wave was positive. If he moved the magnetic discharger towards the other side of the dynamo, the radiant wave became negative in sign. This was clearly a new electrical force which travelled as light-like rays, showing them to be different in nature to the electromagnetic waves of Maxwell.
Investigating the effects of adjusting the duration of the pulses, Tesla found that a pulse train which had individual pulses with durations exceeding 100 microseconds, produced pain and mechanical pressures. At this duration, objects in the field visibly vibrated and were even pushed along by the field. Thin wires subjected to sudden bursts of the radiant field, exploded into vapour. When the pulse duration was reduced to 100 microseconds or below, the painful effect was no longer felt and the waves are harmless.
With a pulse duration of 1 microsecond, strong physiological heat was felt. With even shorter pulse durations, spontaneous illuminations capable of filling rooms with white light, were produced. Even shorter pulses produced cool room penetrating breezes with an accompanying uplift in mood and awareness. These effects have been verified by Eric Dollard who has written about them in some detail.
In 1890, Tesla discovered that if he placed a two-foot long single-turn deep copper helix coil near his magnetic disrupter, the thin-walled coil developed a sheath of white sparks with long silvery white streamers rising from the top of the coil. These discharges appeared to have much higher voltages than the generating circuit. This effect was greatly increased if the coil was placed inside the disrupter wire circle. The discharge seemed to hug the surface of the coil with a strange affinity, and rode up its surface to the open end. The shockwave flowed over the coil at right angles to the windings and produced very long discharges from the top of the coil. With the disrupter charge jumping one inch in its magnetic housing, the coil streamers were more than two feet in length. This effect was generated at the moment when the magnetic field quenched the spark and it was wholly unknown at that time.
This train of very short uni-directional pulses causes a very strange field to expand outwards. This field resembles a stuttering electrostatic field but has a far more powerful effect than would be expected from an electrostatic charge. Tesla was unable to account for the enormous voltage multiplication of his apparatus using any of the electrical formula of his day. He therefore presumed that the effect was entirely due to radiant transformation rules which would have to be determined through experimental measurements. This he proceeded to do.
Tesla had discovered a new induction law where radiant shockwaves actually auto-intensified when encountering segmented objects. The segmentation was the key to releasing the action. Radiant shockwaves encountered a helix and "flashed over" the outer skin, from end to end. This shockwave did not pass through the windings of the coil but treated the surface of the coil as a transmission path. Measurements showed that the voltage increase along the surface of the coil was exactly proportional to the length travelled along the coil, with the voltage increase reaching values of 10,000 volts per inch of coil. The 10,000 volts which he was feeding to his 24 inch coil were being magnified to 240,000 volts at the end of his coil. This was unheard of for simple equipment like that. Tesla also discovered that the voltage increase was mathematically linked to the resistance of the coil winding, with higher resistance windings producing higher voltages.
Tesla then began to refer to his disrupter loop as his special "primary" and to the long helical coil as his special "secondary" but he never intended anyone to equate these terms to those referring to electromagnetic transformers which operate in a completely different way.
There was an attribute which baffled Tesla for a time. His measurements showed that there was no current flowing in the long copper 'secondary' coil. Voltage was rising with every inch of the coil, but there was no current flow in the coil itself. Tesla started to refer to his measured results as his "electrostatic induction laws". He found that each coil had its own optimum pulse duration and that the circuit driving it needed to be 'tuned' to the coil by adjusting the length of the pulses to give the best performance.
Tesla then noticed that the results given by his experiments paralleled the equations for dynamic gas movements, so he began wondering if the white flame discharges might not be a gaseous manifestation of electrostatic force. He found that when a metal point was connected to the upper terminal of the 'secondary' coil, the streamers were directed very much like water flowing through a pipe. When the stream was directed at distant metal plates, it produced electronic charges which could be measured as current at the receiving site but in transit, no current existed. The current only appeared when the stream was intercepted. Eric Dollard has stated that this intercepted current can reach several hundred or even thousands of amps.
Tesla made another remarkable discovery. He connected a very heavy U-shaped copper bar directly across the primary of his disrupter, forming a dead short-circuit. He then connected several ordinary incandescent filament bulbs between the legs of the U-shaped bar. When the equipment was powered up, the lamps lit with a brilliant cold white light. This is quite impossible with conventional electricity, and it shows clearly that what Tesla was dealing with was something new. This new energy is sometimes called "cold electricity" and Edwin Gray snr. demonstrated how different it is by lighting incandescent-filament bulbs directly from his power tube, submerging them in water and putting his hand in the water. Cold electricity is generally considered to be harmless to humans. Ed Gray's power tube operates by generating radiant electricity waves by using a spark gap, and collecting the energy using three encasing copper cylinders surrounding the spark gap. The cylinders are drilled with many holes as that enhances the pick-up and the load is driven directly from the current in the cylinders. When lighting bulbs, Ed used an air-cored transformer made of just a few turns of very heavy wire. I, personally, am aware of two people who have independently reproduced Ed's power tube.
Tesla viewed the streamers coming off his coils as being wasted energy so he tried to suppress them. He tried a conical coil but found that this accentuated the problem. He then tried placing a copper sphere at the top of his coil. This stopped the streamers but electrons were dislodged from the copper sphere, creating really dangerous conditions. This implied that metals generate electron flows when struck by the coil streamers (as had been seen when the streamers had been aimed at remote metal plates and current was generated as a result).
Tesla designed, built and used large globe lamps which required only a single external plate for receiving the radiant energy. No matter how far away these lamps were from the radiant source, they became brilliantly lit, almost to the level of an arc lamp and far, far brighter than any of the conventional Edison filament lamps. By adjusting the voltage and the pulse duration of his apparatus, Tesla could also heat or cool a room.
Tesla's experiments suggest that a method of extracting free-energy is to use a Tesla coil which has a metal spike instead of the more common metal sphere at the end of the 'secondary' coil. If the Tesla coil is fed with sufficiently short uni-directional pulses and the 'secondary' coil pointed at a metal plate, then it should be possible to draw off serious levels of power from the metal plate, just as Tesla discovered.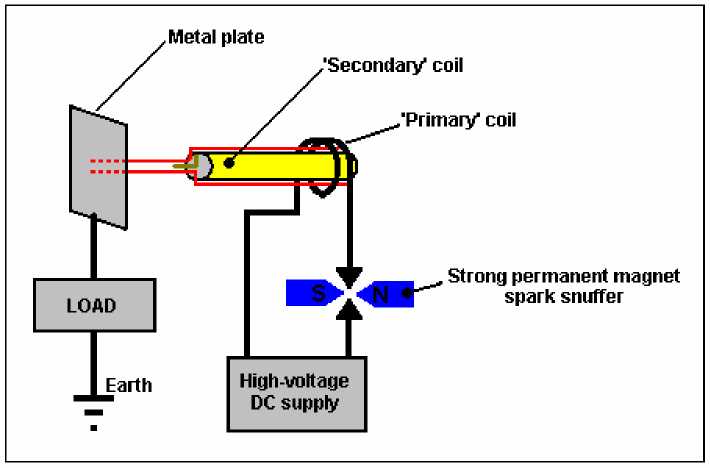 Metal plate.
Secondary coil.
Primary coil.
Strong permanent magnet spark snuffer,
The energy drawn from the surrounding field is not electricity and it does not flow through the wire of the 'secondary' coil, but instead, it runs along the outside of the coil and through space to strike the surface of the metal plate, where it generates conventional electric current which can be of serious amperage. Thomas Henry Moray demonstrated that this energy flowing along the outside of the wire can pass through glass without being affected in any way.
While Tesla's experiment used a metal plate, he patented (US 512,340) a coil type which he said is very effective in picking up this radiant energy. This coil type goes by the rather impressive name of "bi-filar serial-connected coil":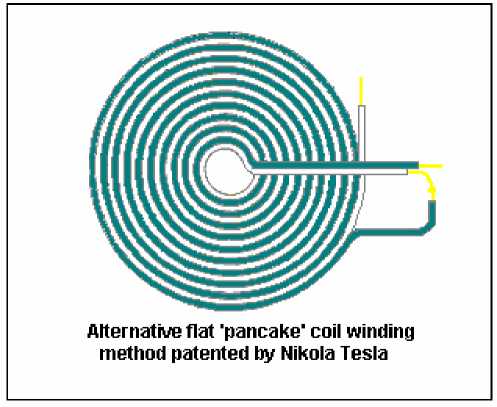 Alternative flat "pancake" coil winding method patented by Nicola Tesla.
If a strong magnetic field is positioned across the spark gap as shown above, it sharpens the cut-off of the spark and enhances the uni-directional character of the pulse of current. It should be remembered that if a very short sharp pulse of uni-directional current such as is produced by a spark jumping across a spark gap as in the arrangement shown above, occurs in a conductor, then a strong wave of radiant energy radiates out in a plane at right angles to the pulse of current, as shown here: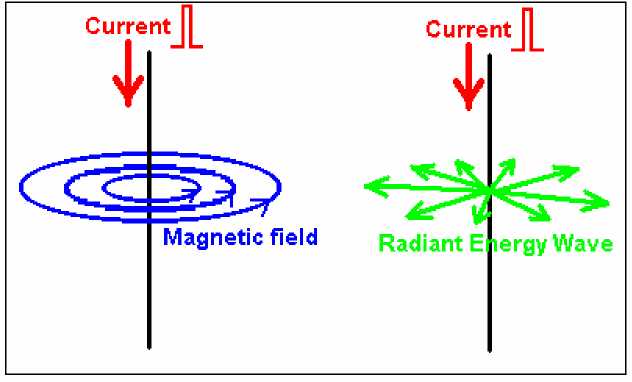 Current.
Magnetic field.
Radiant Energy Wave.
This radiant energy wave is quite different from the electromagnetic field generated around the wire carrying the pulse of current. In the Tesla coil arrangement shown above, it should be possible to gather additional free energy through one or more co-axial (like layers of an onion) cylindrical coils around the spark gap leads. These coils will be better if they are would as bi-filar serially-connected coils, which just means that the wire used to wind them is doubled over from its mid point before the coil is wound. The reason for this arrangement is that the magnetic field component of the coils is (nearly) zero as the current flowing through the wire is flowing in opposite directions in alternate turns, and so the magnetic fields produced should cancel out: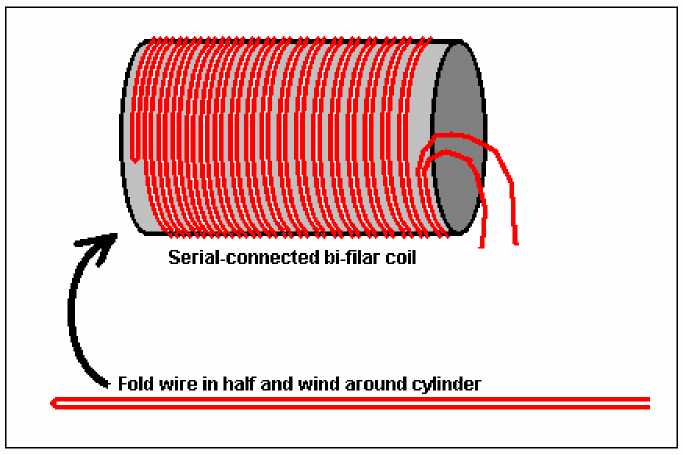 Serial-connected bi-filar coil.
Fold wire in half and wind around cylinder.
Tesla was granted US Patent 685, 957 "Apparatus for the Utilisation of Radiant Energy" in which he shows various ways of handling the energy collected by the metal plate. It is likely that the pick-up techniques shown in the patent of Hermann Plauston, which forms part of this set of documents, would also work very effectively with this collected energy. Old patents sometimes mention a "condenser" which is the original term for what is nowadays called a "capacitor".
After careful consideration and many experiments, Tesla concluded that the radiant rays which he was utilising, radiated out so rapidly that electrons were unable to keep up with them. The rays were being carried via a medium consisting of extremely mobile, almost mass-less particles, very much smaller than electrons and which, because of their size and speed, could pass easily through most materials. In spite of their small size, their extreme speed caused them to have considerable momentum. A fact which is very difficult to come to terms with is that these rays seem to propagate outwards instantly, with no time delay at all, as if transmitted through matter which is wholly incompressible. It is sometimes called "Radiant Energy" or "RE" for short and appears to have no charge in conventional terms. This is a unique feature of the universe, with unique characteristics, which if utilised, provides a whole host of new applications and capabilities.
Tesla considered that this newly discovered field acted like a fluid. A hundred and fifteen years later, the cover story of the December 2005 edition of the 'Scientific American' journal states that experimental models hint that space-time could be a kind of fluid. It has taken a long time for modern science to start catching up with Tesla. In actual fact, it was Michael Faraday (1781 - 1867) who came up with the idea in the first place.
Paulo & Alexandra Correa have discovered a way of converting Tesla's longitudinal waves into ordinary electrical power. They have made US Patent Application 2006/0,082,334 entitled "Energy Conversion Systems" in which they show various ways of achieving this energy-type conversion.
Their techniques range from applying the longitudinal wave energy coming from a Tesla Coil directly to two capacitors via diode rectification and the voltages generated are related directly to actual ground earth potential:

The patent application forms part of this set of documents so the full details can be examined. A theory of operation is presented based on their many experiments and observations, and the practical form of one of their conversion devices is:
etc: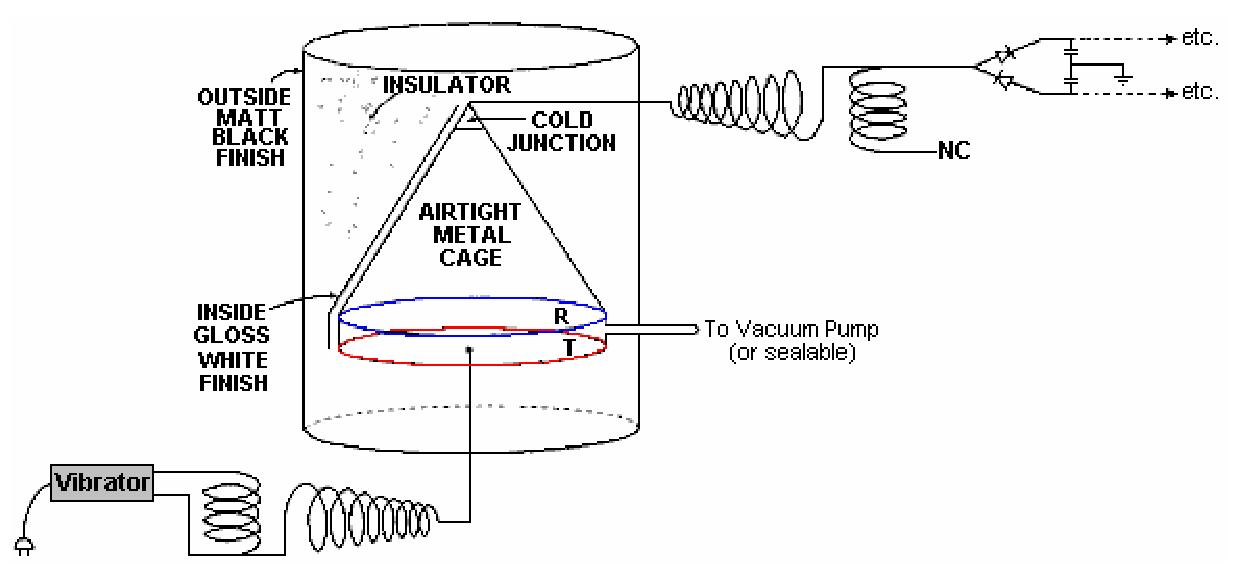 OUTSIDE MATT BLACK FINISH.
INSIDE GLOSS WHITE FINISH.
INSULATOR.
COLD JUNCTION.
AIRTIGHT METAL CAGE.
To Vacuum Pump (or sealable).
Vibrator.
Where the active pick-up plates R and T are encased in a cylinder and are provided with a cone shape to assist the procedure. The patent application contains a good deal of information and is worth reading.
Another key person in the advancement of current theory and analysis is Professor Konstantin Meyl who has described how field vortices form scalar waves. He has described how electromagnetic waves (transverse waves) and scalar waves (longitudinal waves) both should be represented in wave equations.
For comparison, transverse EM waves are best used for broadcast transmissions like television, while longitudinal scalar waves are better for one-to-one communication systems like cell phones.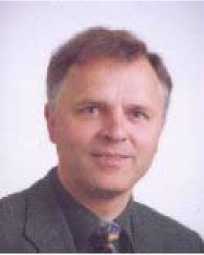 Konstantin Meyl
He also presented the theory that neutrinos are scalar waves moving faster than the speed of light. When moving at the speed of light, they are photons. When a neutrino is slowed to below the speed of light, it becomes an electron. Neutrinos can oscillate between e- and e+. Fusion involves e-, and a lightning flash involves e+. Energy in a vortex acts as a frequency converter. The measurable mixture of frequencies is called noise.
Dr. Meyl has pointed out that Tesla measured the resonance of the Earth at 12 Hz. The Schumann resonance of the Earth is 7.8 Hz. Meyl shows how one can calculate the scalar wave of the Earth to be 1.54 times the speed of light. He has developed a model which ties the expansion of the earth to be the result of the earth's absorption of neutrino energy. The ramifications of this model are that neutrino energy can be tapped. He took this to the next step and postulated that Zero Point Energy is neutrino power - energy from the field; available at anytime, and everywhere present. To show the place of neutrinos in conventional science, Meyl noted that the 2002 Nobel Physics prize was in regards to work on neutrinos. Dr. Meyl's web site is at www.k-meyl.de and if you access it via Google, a rough translation into English is available.
Tesla performed an experiment in which he applied high-voltage high-frequency alternating current to a pair of parallel metal plates. He found that the 'space' between the plates became what he described as "solid-state" exhibiting the attributes of mass, inertia and momentum. That is, the area transformed into a state against which a mechanical push could be exerted. This implied that, using this technique, it should be possible to produce a spaceship drive anywhere in space, if the mechanism for thrusting against the 'solid-state' space could be determined. Further experiments convinced Tesla that powerful electromagnetic waves could be used to push against (and pull against) what appears to be 'empty space'. The drive principle is based on the Hall-effect used in semiconductor magnetic sensors, and is called the magnetohydrodynamic ("MHD") effect. This might be illustrated like this: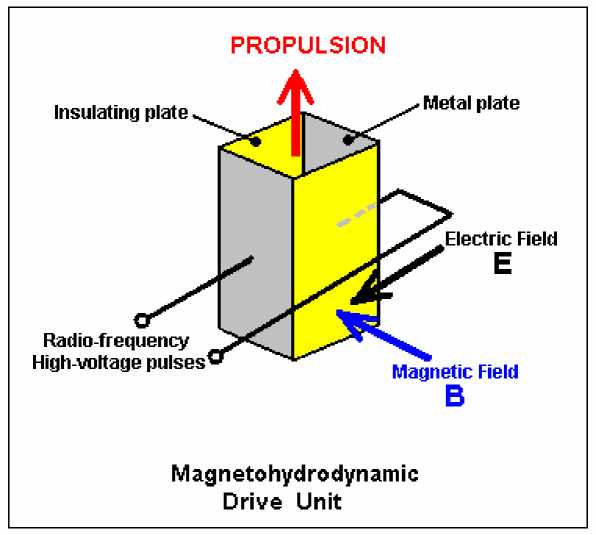 PROPULSION.
Insulating plate.
Metal plate.
Radio-frequency Hitch-voltage pulsed.
Electric Field. E
Magnetic Field. B
Magnetohydrodynamic Drive Unit.
Here, a box is constructed with two metal plates forming opposite sides and two insulating plates holding them in position and surrounding an area of 'space'. High-frequency, high-voltage alternating current is applied to the metal plates and this creates an electric field "E" acting between the plates as shown in black. A magnetic field "B" is generated by the electrical field. The magnetic field acts at right-angles to the electric field, as shown in blue. These two fields produce a propulsion thrust "F" shown in red in the diagram. This propulsion force is not produced by ejecting any matter out of the box, instead, it is produced by a reaction against the 'solid-state' condition of space-time caused by the high-frequency electromagnetic pulsing of that area of space. This is enormously more effective than a jet engine. The thrust increases with the fourth power of the frequency, so if you double the frequency, the effect is sixteen times greater.
To put this into perspective, consider the force being applied against gravity to lift an object into the air. The force pulling the object downwards is gravity and its strength is given by:
Gravitational force:
F = g x M x m / r2
where
-8 3 -1 -2
G is the gravitational constant (6.672 x 10 cm3 g s )
M is the mass of the first body
m is the mass of the second body and
r is distance between the two centres of mass
The lifting force is given by:
Lorentz Force: Force on an object = Electric force + Magnetic force
F = q x E + q x v x B
where
q is the charge on the object,
B is the magnetic field, v is the velocity of the object and E is the electric field
How do these forces compare? Well, the electromagnetic force is stronger than the gravitational force by a factor of about 2,200,000,000,000,000,000,000,000,000,000,000,000,000 times. That number (2.2 x 1039) is too big for anybody to really visualise, so let me put it another way.
If the amount of energy used to mechanically lift an object a distance of one hundredth of an inch (one quarter of a millimetre) off the ground, were used as an electromagnetic lifting force, then that amount of energy would lift the object more than 3,472,222,000,000,000,000,000,000 miles off the ground, or in metric units, more than 5,588,001,700,000,000,000,000,000 kilometres off the ground. This kind of drive is an entirely different kind of animal. This Hall-effect type of drive if used in a spaceship would require only a very small amount of input power to drive the ship at great speeds and over great distances.
As the device shown above operates directly on the space-time field which penetrates all matter, there would appear to be no reason why it should not be used to drive a conventional vehicle by positioning it in a horizontal position rather than the vertical position shown in the diagram. Throttle operation could be by very slight adjustment to the frequency of the AC pulses applied to the metal plates. However, Bill Lyne indicates that horizontal movement is better achieved by producing Tesla's very short, high-voltage high-frequency DC pulses at the front of the vehicle while at the same time generating very high-voltage high-frequency AC waves at the back of the vehicle. This style of drive is said to pull the vehicle along rather than push it along.
Tesla's Dynamic Theory of Gravity (1897) states that all bodies emit microwaves whose voltage and frequency are determined by their electrical contents and relative motion. He measured the microwave radiation of the earth as being only a few centimetres in wavelength. He said that the frequency and voltage were influenced by the velocity and mass of the earth, and that its gravitational interaction with other bodies, such as the sun, was determined by the interaction of the microwaves between the two bodies.
If you find the concept of producing a driving force through pushing against the space-time continuum to be difficult to accept, then perhaps you should consider the US Patent granted to Boris Volfson on 1st November 2005. The important thing about this patent (which is crammed full of long words) is not whether or not it presents a realistic mechanism for a practical space drive, but the fact that the US Patent Office in the year 2005, granted the patent after what presumably was careful consideration. With that in view, it is hardly possible to consider Tesla to have been totally confused when he designed (and built) his "electric flying machine" which operated by pushing against the space-time field.
Tesla used high voltage at gigahertz frequencies for his electropulsion system. The propulsion of a vehicle powered by a Tesla drive is by the use of an additional AC generator at the back (which stiffens the spacetime continuum behind the vehicle) and a DC 'brush' generator at the front (which weakens the space-time continuum in front, causing the vehicle to be pulled forwards).
Tesla was very astute. He deduced that 'empty space' actually contained:
1. Independent carriers which permeate all space and all matter and from which all matter is made. These carry momentum, magnetism, electricity or electromagnetic force, and can be manipulated artificially or by nature.
2. 'Primary Solar Rays' (starlight) which travel at the speed of light, having frequencies far above X-rays, gamma and UV radiation.
3. 'Cosmic Rays', particles in space propelled by the Primary Solar Rays.
4. X-rays, Gamma rays and UV electromagnetic waves, all of which travel at the speed of light.
5. Ordinary visible and Infra-Red electromagnetic waves which travel at the speed of light.
6. Rapidly varying electrostatic force of enormous potential, emanating from the earth and other gravitational bodies in space.
When we grasp the actual nature of the universe, it becomes clear that we have a much larger range of opportunities for producing usable energy in large quantities and at minimal cost.
Here is the basic information from the Volfson patent, I would not rate it as an easy-read for most people:
| A Practical Guide to 'Free Energy' Devices |


---
Loading...