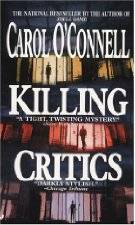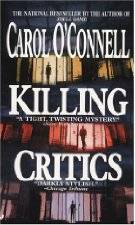 Carol O'Connell
Killing Critics
The third book in the Kathleen Mallory series, 1996
Many thanks to the people who answered my questions and extended their courtesy.
Dianne Burke, Search & Rescue Research Associates, Tempe, Arizona, for her patience and diligence. (LFQYO1A @prodigy.com)
Robbin Murphy, Creative Director of artnetweb, for a tour of the system, (http://artnetweb.com/artnetweb)
YTNOP Music, for the use of an atmospheric Jean-Luc Ponty instrumental.
FOR MY FATHER
He was one of those quiet heroes who worked until the day he died. He was also a man who could do a financial transaction on a handshake; he bought our first house that way. And people who've known him since he was a child will tell you he never told a lie in his entire life. What spare time he had was spent in public service; what spare cash he had was given away. This remarkable man filled a church when he died, and the planet was diminished.
| Killing Critics |


---