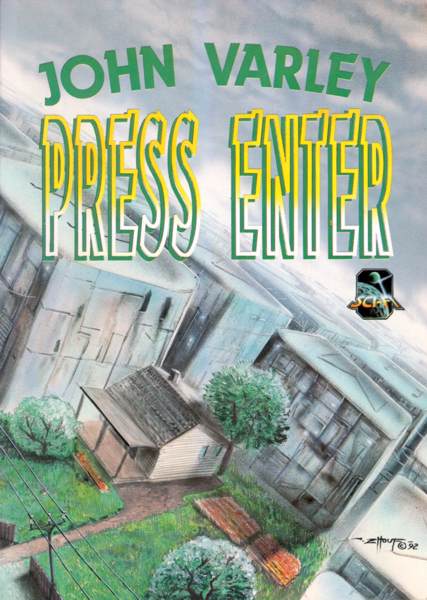 John Varley
Press Enter
You have a definite treat in store for you in this fascinating novella about theft-by-computer, murder, and a surprising vil­lain. Even if you're a computerphobe, as I sometimes am, the imagination and story-telling skill of John Varley will have you chuckling and nodding your head in delight-which is very ap­propriate, for after all, one of science fiction's prime virtues is its ability to combat future shock by drawing us into tomorrow in such delightful ways.
John Varley is one of the most successful writers in science fiction of the past decade. His novels include Titan, Wizard, and Demon, as well as the bestseller Millennium.
"This is a recording. Please do not hang up until-"
I slammed the phone down so hard it fell onto the floor. Then I stood there, dripping wet and shaking with anger. Eventually, the phone started to make that buzzing noise they make when a receiver is off the hook. It's twenty times as loud as any sound a phone can normally make, and I always wondered why. As though it was such a terrible disaster: "Emergency! Your telephone is off the hook!!!"
Phone answering machines are one of the small annoyances of life. Confess, do you really like talking to a machine? But what had just happened to me was more than a petty irrita­tion. I had just been called by an automatic dialing machine.
They're fairly new. I'd been getting about two or three such calls a month. Most of them come from insurance companies. They give you a two-minute spiel and then a number to call if you are interested. (I called back, once, to give them a piece of my mind, and was put on hold, complete with Muzak.) They use lists. I don't know where they get them.
I went back to the bathroom, wiped water droplets from the plastic cover of the library book, and carefully lowered my­self back into the water. It was too cool. I ran more hot water and was just getting my blood pressure back to normal when the phone rang again.
So I sat there through fifteen rings, trying to ignore it.
Did you ever try to read with the phone ringing?
On the sixteenth ring I got up. I dried off, put on a robe, walked slowly and deliberately into the living room. I stared at the phone for a while.
On the fiftieth ring I picked it up.
"This is a recording. Please do not hang up until the message has been completed. This call originates from the house of your next-door neighbor, Charles Kluge. It will repeat every ten minutes. Mister Kluge knows he has not been the best of neighbors, and apologizes in advance for the inconvenience. He requests that you go immediately to his house. The key is under the mat. Go inside and do what needs to be done. There will be a reward for your services. Thank you."
Click. Dial tone.
I'm not a hasty man. Ten minutes later, when the phone rang again. I was still sitting there thinking it over. I picked up the receiver and listened carefully.
It was the same message. As before, it was not Kluge's voice. It was something synthesized, with all the human warmth of a Speak'n'Spell.
I heard it out again, and cradled the receiver when it was done.
I thought about calling the police. Charles Kluge had lived next door to me for ten years. In that time I may have had a dozen conversations with him, none lasting longer than a minute. I owed him nothing.
I thought about ignoring it. I was still thinking about that when the phone rang again. I glanced at my watch. Ten minutes. I lifted the receiver and put it right back down.
I could disconnect the phone. It wouldn't change my life radically.
But in the end I got dressed and went out the front door, turned left, and walked toward Kluge's property.
My neighbor across the street, Hal Lanier, was out mowing the lawn. He waved to me, and I waved back. It was about seven in the evening of a wonderful August day. The shad­ows were long. There was the smell of cut grass in the air. I've always liked that smell. About time to cut my own lawn, I thought.
It was a thought Kluge had never entertained. His lawn was brown and knee-high and choked with weeds.
I rang the bell. When nobody came I knocked. Then I sighed, looked under the mat, and used the key I found there to open the door.
"Kluge?" I called out as I stuck my head in.
I went along the short hallway, tentatively, as people do when unsure of their welcome. The drapes were drawn, as always, so it was dark in there, but in what had once been the living room ten television screens gave more than enough light for me to see Kluge. He sat in a chair in front of a table, with his face pressed into a computer keyboard and the side of his head blown away.
Hal Lanier operates a computer for the L.A.P.D., so I told him what I had found and he called the police. We waited together for the first car to arrive. Hal kept asking if I'd touched anything, and I kept telling him no, except for the front door knob.
An ambulance arrived without the siren. Soon there were police all over, and neighbors standing out in their yards or talking in front of Kluge's house. Crews from some of the television stations arrived in time to get pictures of the body, wrapped in a plastic sheet, being carried out. Men and women came and went. I assumed they were doing all the standard police things, taking fingerprints, collecting evidence. I would have gone home, but had been told to stick around.
Finally I was brought in to see Detective Osborne, who was in charge of the case. I was led into Kluge's living room. All the television screens were still turned on. I shook hands with Osborne. He looked me over before he said anything. He was a short guy, balding. He seemed very tired until he looked at me. Then, though nothing really changed in his face, he didn't look tired at all.
"You're Victor Apfel?" he asked. I told him I was. He gestured at the room. "Mister Apfel, can you tell if anything has been taken from this room?"
I took another look around, approaching it as a puzzle.
There was a fireplace and there were curtains over the windows. There was a rug on the floor. Other than those items, there was nothing else you would expect to find in a living room.
All the walls were lined with tables, leaving a narrow aisle down the middle. On the tables were monitor screens, key­boards, disc drives-all the glossy bric-a-brac of the new age. They were interconnected by thick cables and cords. Beneath the tables were still more computers, and boxes full of elec­tronic items. Above the tables were shelves that reached the ceiling and were stuffed with boxes of tapes, discs, cartridges… there was a word for it which I couldn't recall just then. It was software.
"There's no furniture, is there? Other than that…"
He was looking confused.
"You mean there was furniture here before?"
"How would I know?" Then I realized what the misunder­standing was. "Oh. You thought I'd been here before. The first time I ever set foot in this room was about an hour ago."
He frowned, and I didn't like that much.
"The medical examiner says the guy had been dead about three hours. How come you came over when you did, Victor?"
I didn't like him using my first name, but didn't see what I could do about it. And I knew I had to tell him about the phone call.
He looked dubious. But there was one easy way to check it out, and we did that. Hal and Osborne and I and several others trooped over to my house. My phone was ringing as we entered.
Osborne picked it up and listened. He got a very sour expression on his face. As the night wore on, it just got worse and worse.
We waited ten minutes for the phone to ring again. Os­borne spent the time examining everything in my living room. I was glad when the phone rang again. They made a record­ing of the message, and we went back to Kluge's house.
Osborne went into the back yard to see Kluge's forest of antennas. He looked impressed.
"Mrs. Madison down the street thinks he was trying to contact Martians," Hal said, with a laugh. "Me, I just thought he was stealing HBO." There were three parabolic dishes. There were six tall masts, and some of those things you see on telephone company buildings for transmitting microwaves.
Osborne took me to the living room again. He asked me to describe what I had seen. I didn't know what good that would do, but I tried.
"He was sitting in that chair, which was here in front of this table. I saw the gun on the floor. His hand was hanging down toward it.''
"You think it was suicide?"
"Yes, I guess I did think that." I waited for him to comment but he didn't. "Is that what you think?"
He sighed. "There wasn't any note."
"They don't always leave notes," Hal pointed out.
"No, but they do often enough that my nose starts to twitch when they don't." He shrugged. "It's probably nothing."
"That phone call," I said. "That might be a kind of suicide note."
Osborne nodded. "Was there anything else you noticed?"
I went to the table and looked at the keyboard. It was made by Texas Instruments, model TI-99/4A. There was a large bloodstain on the right side of it, where his head had been resting.
"Just that he was sitting in front of this machine." I touched a key, and the monitor screen behind the keyboard immediately filled with words. I quickly drew my hand back, then stared at the message there.
PROGRAM NAME: GOODBYE REAL WORLD
DATE: 8/20
CONTENTS: LAST WILL AND TESTAMENT; MISC.
FEATURES
PROGRAMMER: "CHARLES KLUGE"
TO RUN PRESS ENTERB
The black square at the end flashed on and off. Later I learned it was called a cursor.
Everyone gathered around. Hal, the computer expert, ex­plained how many computers went blank after ten minutes of no activity, so the words wouldn't be burned into the televi­sion screen. This one had been green until I touched it, then displayed black letters on a blue background.
"Has this console been checked for prints?" Osborne asked.
Nobody seemed to know, so Osborne took a pencil and used the eraser to press the ENTER key.
The screen cleared, stayed blue for a moment, then filled with little ovoid shapes that started at the top of the screen and descended like rain. There were hundreds of them in many colors.
"Those are pills," one of the cops said, in amazement. "Look, that's gotta be a Quaalude. There's a Nembutal." Other cops pointed out other pills. I recognized the distinctive red stripe around the center of a white capsule that had to be a Dilantin. I had been taking them every day for years.
Finally the pills stopped falling, and the damn thing started to play music at us. "Nearer My God To Thee," in three-part harmony.
A few people laughed. I don't think any of us thought it was funny-it was creepy as hell listening to that eerie dirge- but it sounded like it had been scored for penny whistle, calliope, and kazoo. What could you do but laugh?
As the music played, a little figure composed entirely of squares entered from the left of the screen and jerked spasti-cally toward the center. It was like one of those human figures from a video game, but not as detailed. You had to use your imagination to believe it was a man.
A shape appeared in the middle of the screen. The "man" stopped in front of it. He bent in the middle, and something that might have been a chair appeared under him.
"What's that supposed to be?"
"A computer. Isn't it?"
It must have been, because the little man extended his arms, which jerked up and down like Liberace at the piano. He was typing. The words appeared above him.
SOMEWHERE ALONG THE LINE I MISSED SOME­THING. I SIT HERE, NIGHT AND DAY, A SPIDER IN THE CENTER OF A COAXIAL WEB, MASTER OF ALL I SURVEY… AND IT IS NOT ENOUGH. THERE MUST BE MORE.
ENTER YOUR NAME HEREB
"Jesus Christ," Hal said. "I don't believe it. An interac­tive suicide note."
"Come on, we've got to see the rest of this."
I was nearest the keyboard, so I leaned over and typed my name. But when I looked up, what I had typed was VICT9R.
"How do you back this up?" I asked.
"Just enter it," Osborne said. He reached around me and pressed enter.
DO YOU EVER GET THAT FEELING, VICT9R? YOU HAVE WORKED ALL YOUR LIFE TO BE THE BEST THERE IS AT WHAT YOU DO, AND ONE DAY YOU WAKE UP TO WONDER WHY YOU ARE DOING IT? THAT IS WHAT HAPPENED TO ME.
DO YOU WANT TO HEAR MORE, VICT9R? Y/NB
The message rambled from that point. Kluge seemed to be aware of it, apologetic about it, because at the end of each forty-or fifty-word paragraph the reader was given the Y/N option.
I kept glancing from the screen to the keyboard, remember­ing Kluge slumped across it. I thought about him sitting here alone, writing this.
He said he was despondent. He didn't feel like he could go on. He was taking too many pills (more of them rained down the screen at this point), and he had no further goal. He had done everything he set out to do. We didn't understand what he meant by that. He said he no longer existed. We thought that was a figure of speech.
ARE YOU A COP, VICT9R? IF YOU ARE NOT, A COP WILL BE HERE SOON. SO TO YOU OR THE COP: I WAS NOT SELLING NARCOTICS. THE DRUGS IN MY BEDROOM WERE FOR MY OWN PERSONAL USE. I USED A LOT OF THEM. AND NOW I WILL NOT NEED THEM ANYMORE.
PRESS ENTERB
Osborne did, and a printer across the room began to chat­ter, scaring the hell out of all of us. I could see the carriage zipping back and forth, printing in both directions, when Hal pointed at the screen and shouted.
"Look! Look at that!"
The compugraphic man was standing again. He faced us. He had something that had to be a gun in his hand, which he now pointed at his head.
"Don't do it!" Hal yelled.
The little man didn't listen. There was a denatured gunshot sound, and the little man fell on his back. A line of red dripped down the screen. Then the green background turned to blue, the printer shut off, and there was nothing left but the little black corpse lying on its back and the word **DONE** at the bottom of the screen.
I took a deep breath, and glanced at Osborne. It would be an understatement to say he did not look happy.
"What's this about drugs in the bedroom?" he said.
We watched Osborne pulling out drawers in dressers and bedside tables. He didn't find anything. He looked under the bed, and in the closet. Like all the other rooms in the house, this one was full of computers. Holes had been knocked in walls for the thick sheaves of cables.
I had been standing near a big cardboard drum, one of several in the room. It was about thirty gallon capacity, the kind you ship things in. The lid was loose, so I lifted it. I sort of wished I hadn't.
"Osborne," I said. "You'd better look at this."
The drum was lined with a heavy-duty garbage bag. And it was two-thirds full of Quaaludes.
They pried the lids off the rest of the drums. We found drums of amphetamines, of Nembutals, of Valium. All sorts of things.
With the discovery of the drugs a lot more police returned to the scene. With them came the television camera crews.
In all the activity no one seemed concerned about me, so I slipped back to my own house and locked the door. From time to time I peeked out the curtains. I saw reporters inter­viewing the neighbors. Hal was there, and seemed to be having a good time. Twice crews knocked on my door, but I didn't answer. Eventually they went away.
I ran a hot bath and soaked in it for about an hour. Then I turned the heat up as high as it would go and got in bed, under the blankets.
I shivered all night.
| Press Enter |


---